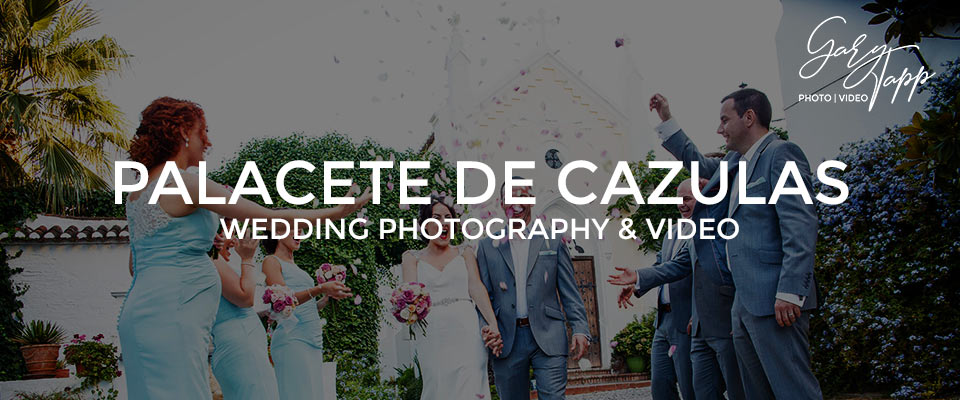 Palacete De Cazulas Wedding Photography & Videography
Are you looking for a wedding photographer at Palacete De Cazulas ? Hello, I'm Gary Tapp and maybe you found this page because you are looking for your wedding photographer at Palacete De Cazulas. I am based and living in Marbella, Malaga but I travel and cover weddings all along the Costa Del Sol, Andalucia
The Palacete de Cazulas wedding venue is the perfect place for small groups to get away from it all and relax in a peaceful and exclusive environment.
As a Nerja wedding venue, the mansion is considered to be a jewel of Andalusia architecture which dates back to 1492. It has an idyllic location away from the coastline inland offering outstanding privacy and the perfect romantic setting for your wedding. Located at the end of a scenic Tropical Valley. The Mansion is set in a private, quiet and peaceful setting totally away from the hustle and bustle of the coast and nearest towns. This fabulous house is perfect as an exclusive venue for that special wedding with its own private chapel with a reception Al Fresco afterwards in the Moorish gardens.
The venue has been restored into an outstanding country residence with a capacity of up to 34 guests staying in the property but for weddings, the garden and terraces can accommodate additional people for a reception up to 110 people. The chapel seats 45, or max 70 standing.
Please take a look at my gallery portfolio below of examples of my wedding photography taken at the Palacete De Cazulas wedding venue. You can also view more of my work from other wedding venues in my photography and videography portfolios.
---
Professional Wedding Photography at Palacete De Cazulas wedding venue in Otivar, Granada
If you think you would like to be your wedding photographer or videographer for your wedding celebration at Palacete De Cazulas wedding venue or any other location, then I would love to hear more about you both and what you have planned for your wedding day? Please use the WhatsApp icon below or the quick contact form below and I will get back to you.
---
For booking your wedding and for more information contact
Palacete De Cazulas on:
---
Palacete de Cazulas Wedding Photographer
20/12/2012