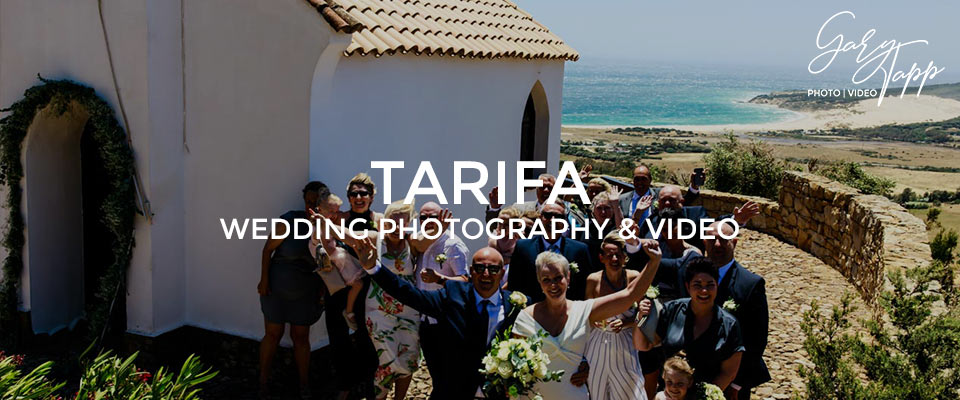 Your Wedding in Tarifa – Photography & Videography
Are you looking for a Tarifa wedding photographer? Hello, I'm Gary Tapp and maybe you found this page because you are looking for a wedding photographer for your wedding in Tarifa. I am based and living in Marbella, Malaga but I travel and cover weddings all along the Costa Del Sol, Andalucia & Cadiz.
Tarifa offers the quintessential beach wedding, with miles of white sandy beaches, beautiful natural landscapes and a backdrop of the Moroccan mountains that are perfect for a laid back style and relaxed wedding. Many couples decide to get married on the beach followed by a reception in one of the modern or rustic hotels.  You can also choose to have a blessing in the chapel on the top of the mountain (see photo above) before heading down to your beach front reception venue. The hotels available offer different styles and you can choose between tropical gardens or beach side stunning locations just for you and your guests.
Please take a look at my gallery portfolio below of examples of my wedding photography taken at Tarifa Chapel a uniquely beautiful and idyllic wedding location near Valdevaqueros Beach. You can also view more of my work from other wedding venues in my photography and videography portfolios.
---
If you think you would like to be your wedding photographer or videographer for your wedding in Tarifa or any other location, then I would love to hear more about you both and what you have planned for your wedding day? Please use the WhatsApp icon below or the quick contact form below and I will get back to you.
For booking your wedding and for more information on Tarifa:
---
Address: Paseo de la Alameda, s/n, 11380
Telephone: +34 956680993
Website: andalucia.org
Your Wedding in Tarifa
02/09/2012