Live Stream your Wedding Day in 2022 & 2023
Live stream Wedding Packages
I use professional video and live streaming equipment to broadcast weddings and events so your friends or family can watch remotely anywhere in the world. My service includes everything needed to stream your wedding online, including a videographer on-location with professional video, audio and broadcast equipment.
I offer a live stream wedding and I will supply everything needed to capture and broadcast your big day online, including a videographer, professional camcorder, wireless microphone, and portable live-stream equipment. I also use a portable internet device to ensure a fast and reliable dedicated WiFi connection and not use publicly available WiFi which can be unreliable at venues like Hotels, Churches, Beach Weddings, and remote Villas.
Live streaming gives couples an opportunity to share the intimacy and memorable moments of their wedding ceremony with friends and family who are unable to attend your wedding day. 
To live stream wedding a member of our professional video team or myself will arrive at your wedding venue with all the equipment necessary to broadcast your wedding online, including professional HD camera, broadcast quality wireless microphone, and our portable live-streaming equipment.
1 x static camera & tripod. 

1 x Camera Operator.

Radio mics are included to capture sound or we can plug into the venues sound system if suitable. 

We use our own internet connection to broadcast. (Subject to suitable 3G, 4G or 5G being available).

Complete video available post event via a downloadable link. 

Suitable for both church weddings and registry offices. 

Requires 20 minute set up time prior to ceremony starting.
I stream live using Zoom Video Conferencing for the most reliable and best client experience.
After the wedding, I upload an HD video recording of your wedding to my media streaming server which allows on-demand recording for both playback and download so you and your loved ones can re-live the broadcast
Packages and Prices below covering the Malaga Spain, Marbella area. Extra travel costs will be required for weddings outside the Malaga area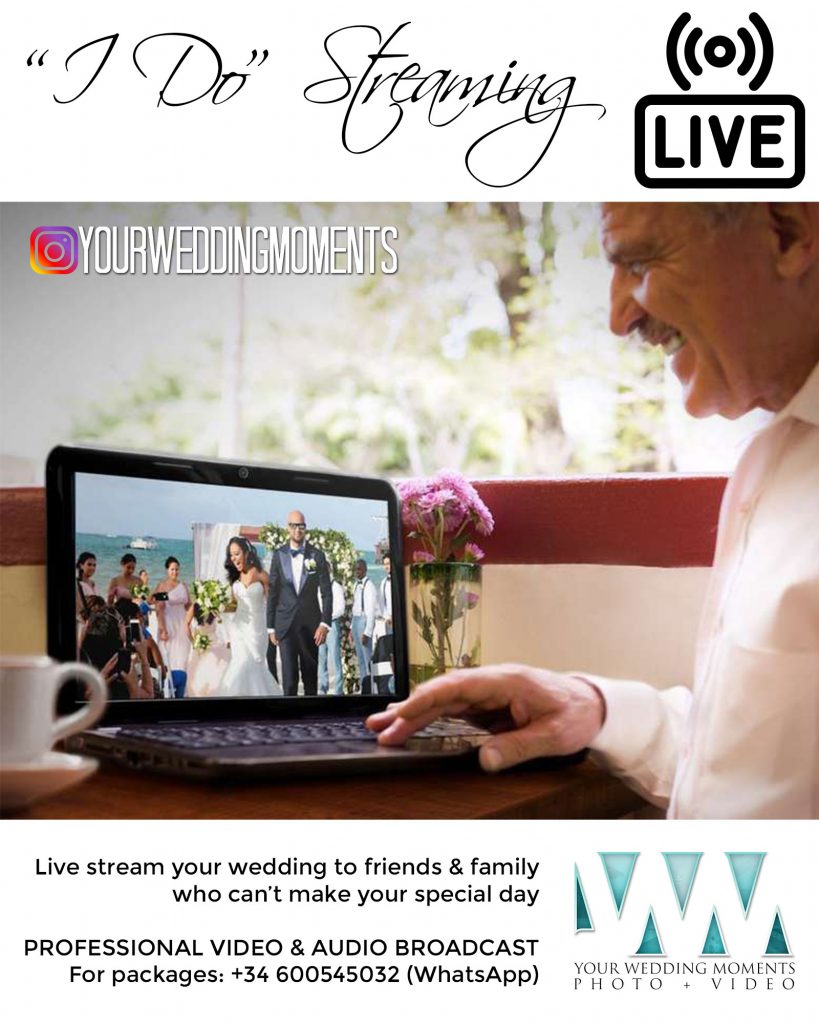 "I DO" Live Stream Package
(When booked with Photo or Video Package)
3 hours coverage from Ceremony to include Speeches €295

Broadcast to individuals or groups via Zoom

After 3 hours each extra hour coverage (no gaps) €95 p/hr

Broadcast is recorded for you to keep
"I DO" Live Stream Package
(Standalone)
3 hours coverage from Ceremony to include Speeches €495 (i.e when speeches are before dinner)

Broadcast to individuals or groups via Zoom

After 3 hours each extra hour coverage (no gaps) €125 p/hr

Broadcast is recorded for you to keep

Within local Marbella 25Km area (Extra travel costs may apply)
Live Stream Wedding 2022 & 2023
18/05/2020