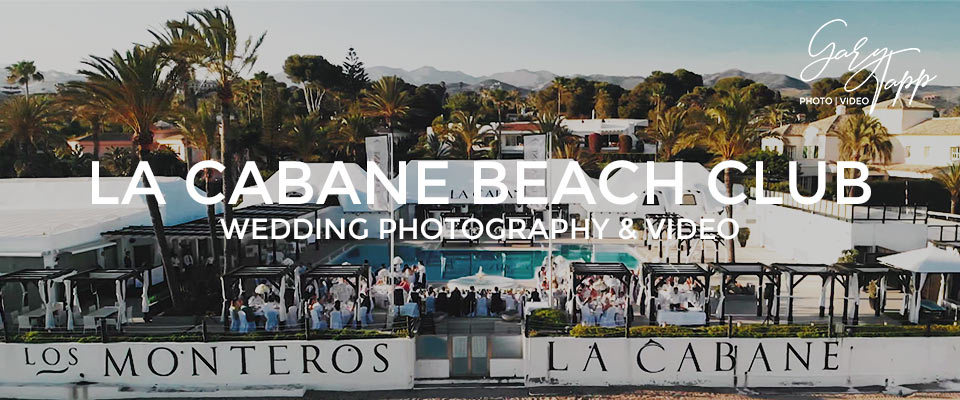 La Cabane Beach Club wedding venue in Marbella
Are you searching for a wedding photographer at the La Cabane wedding venue? The La Cabane Beach Club is, without doubt, one of the most exclusive places of the Costa del Sol, if not the most exclusive. With its location on the shores of the Mediterranean Sea, Club La Cabane is one of the most elegant and exclusive places on the Costa del Sol. Its magnificent panoramic views and its functional and modern design make it the ideal place for an amazing wedding day.
La Cabane wedding Marbella
If you wish to impress your guests, La Cabane Beach Club is the perfect venue. Are you looking for an exclusive place to celebrate your dream wedding? Offers you the chance to celebrate your special day on the Mediterranean shores, in a privileged setting with the exclusivity that the most elegant beach club on the Costa del Sol offers.
La Cabane has a terrace with views of the sea in the pool area to hold a cocktail party. At La Cabane, you can personalise your celebration down to the very last detail. It is also a perfect place for civil ceremonies since its large space and wonderful views will turn the event into a magical one. You can also celebrate your wedding indoors, in the La Luna Room.
Booking an aerial drone for this venue is a must as it looks just as spectacular from above to add into your wedding video. Just take a look at the wedding video from La Cabane wedding venue below as an example:
---
Please take a look at my gallery portfolio below of examples of my wedding photography taken at La Cabane. You can also view more of my work from other wedding venues in my photography and videography portfolios. Also please view one of my weddings shot here on the Smashing The Glass blog.
---
If you are interested in me being your wedding photographer or videographer for your wedding celebration at La Cabane wedding venue Marbella or any other location, then I would love to hear more about you both and what you have planned for your wedding day? Please use the WhatsApp icon below or the quick contact form below and I will get back to you.
La Cabane Wedding Photographer
05/09/2012