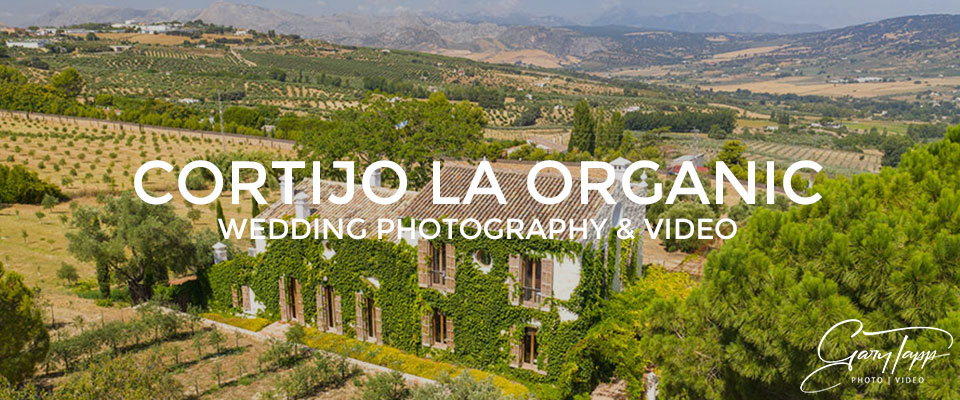 Cortijo La Organic Wedding Photography and Videography
Are you searching for a Cortijo La Organic wedding photographer in Ronda, Spain? Hello, I'm Gary Tapp and maybe you found this page because you are looking for your wedding photographer at the Cortijo La Organic wedding venue. I am based and live in Marbella, Malaga, but I travel and cover weddings all along the Costa Del Sol, Andalucia.
Cortijo La Organic Wedding Venue in Ronda, Spain, is the Perfect Place to Capture Lasting Memories.
This venue's westward orientation gives lovely sunsets and breathtaking views of the Sierra de Grazalema. It is situated within 26 hectares of peaceful olive groves and majestic mountains.

When you first step onto the grounds of Cortijo La Organic wedding venue in Ronda, Spain, you will immediately sense the presence of magic. The attraction of its elegance and the whisper of its history come together to offer the ideal setting for any couple's fantasy wedding ceremony and reception. Every nook and cranny will captivate you with a tale, every vista will take your breath away, and every facility will be customised to ensure that your big day goes off without a hitch.
When it comes to the preparation of a wedding, there are a plethora of specifics that need to be taken into consideration, with the selection of the location being one of the most crucial aspects. The "La Organic Wedding" experience is one that stands out, offering a unique combination of old-world allure and cutting-edge opulence.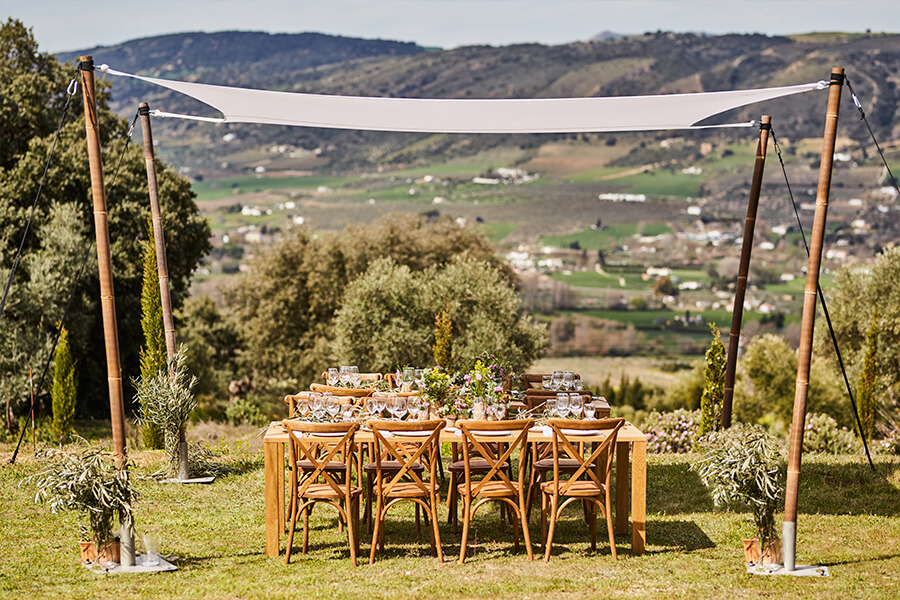 The Cortijo La Organic wedding venue is proud to display its long and distinguished history, which has its origins deep inside Spain's glorious past. The location has been a part of innumerable happy, loving, and celebratory events over the years. The walls, if they could talk, would tell stories of generations before, of couples who began their marital adventure while under its watchful gaze, and of other couples' stories.
The core of Cortijo La Organic wedding venue has not been altered since the property's early days, when it served as an olive estate, and even after it was transformed into the well-known wedding destination that it is today. Because each stone, archway, and hallway is a testament to the building's journey through time, it is a site that can not only be used to hold a wedding, but can also become a part of a more epic story.

The look at the La Organic Wedding venue is one that is both classic and cutting-edge at the same time. The traditional architecture of Spain, with its earthy tones and rough surfaces, blends nicely with the more contemporary additions to the building. At Cortijo La Organic, every detail has been carefully selected and arranged, from the elegant lighting fixtures that illuminate the areas to the enormous glass windows that offer panoramic views.
When you are a bride or groom, strolling through its corridors feels like you are performing a dance between two different periods. Your wedding images and films should capture the charming contrast between the grandiosity of the past and the refinement of the present. This will ensure that your wedding is a memorable event.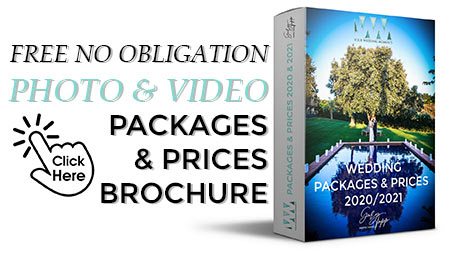 An Immersion in the Great Outdoors: The Breathtaking Scenery That Surrounds Cortijo La Organic

Cortijo La Organic, which can be found right in the middle of Ronda, is a wonderful experience for all of the senses. Verdant olive groves surround the area on all sides, and the silvery leaves of these groves sparkle in the Spanish sun. The mountains in the distance serve as mute witnesses, and the majesty of their summits contributes to the otherworldly allure of the location.
The gardens at Cortijo La Organic are cared for with great attention to detail, which ensures that there is a continuous flowering of beautiful flowers throughout the year. Not only do these surroundings offer a tranquil setting in which to exchange your vows, but they also provide an abundance of picture-perfect locations in which to take your cherished wedding photographs. Just picture yourself exchanging your vows surrounded by the soothing sounds of nature as the sun dips below the horizon, casting a warm light.
Facilities of the Highest Quality, customised to Fit Your Ideal Wedding
At Cortijo La Organic, they recognise that no two couples are exactly alike and honour that fact. The amenities offered at the location were created with the goal of satisfying every whim and fancy.
Bespoke Spaces: Whether you envision a little get-together or a large party, Cortijo La Organic wedding venue has a variety of rooms that can be arranged to suit your preferences and accommodate your guests' attendance numbers. The great ballroom, with its vaulted ceilings, is suitable for hosting an extravagant event, but the smaller rooms, which are cosier, are ideal for celebrating cherished moments with close family and friends.
Gourmet Culinary Experiences: Spanish food is famous all over the world, and at Cortijo La Organic, it is given a modern spin so that guests may enjoy it in a fresh and exciting way. The establishment is home to a group of talented cooks who are able to design a cuisine that is not only mouthwatering but also caters to your specific preferences.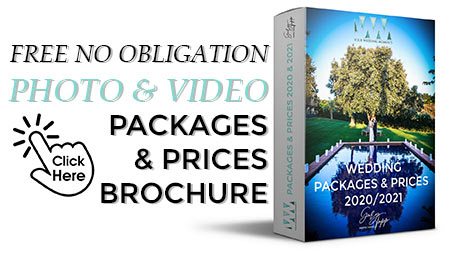 Cortijo La Organic wedding venue provides magnificent suites for guests who are either coming from a great distance or simply want to stay at the venue for a little while longer so that they may take in more of its enchantment. A peaceful night's sleep is guaranteed in each of the rooms thanks to the room's sophisticated yet cosy atmosphere.
Dedicated Event Planners: The team of dedicated event planners that the venue provides will make the process of planning your La Organic Wedding as stress-free as possible. They will see to it that every aspect, from the decorations to the timing of events, is taken care of, so that you are free to focus entirely on enjoying your big day.

Your wedding is not simply a single day; rather, it is the first day of the rest of your lives together to be remembered. Every moment of your stay at Cortijo La Organic in Ronda, Spain, is carefully constructed with love, care, and an awareness of the most important dreams you cherish. Let the experience of "La Organic Wedding" serve as the canvas on which your love story is created as the two of you embark on this breathtakingly wonderful journey of togetherness. Celebrate amidst a setting that is rich in history, natural beauty, and unmatched luxury. The wedding of your dreams is waiting for you.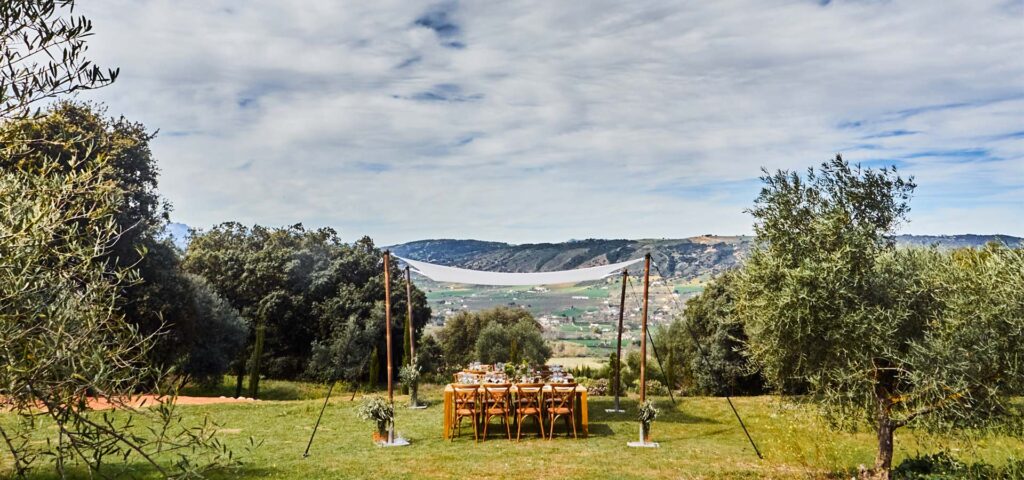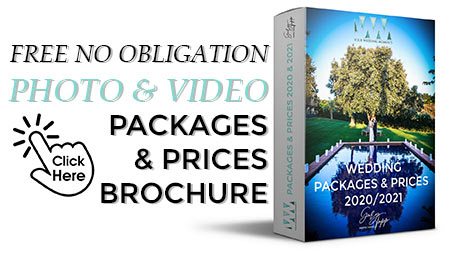 For booking your wedding and
for more information contact
Cortijo La Organic on:
---
Address: Carretera Ardales Ronda A 367, Km 39,5, 29400 Ronda, Málaga
Telephone: +34 650887247
Website: laorganic.es/cortijo/
If you are interested in me being your wedding photographer or videographer for your wedding celebration at the Cortijo La Organic wedding venue or any other location, then I would love to hear more about you both and what you have planned for your wedding day. Please use the WhatsApp icon below or the quick contact form below and I will get back to you.
Cortijo La Organic Wedding Photographer
24/07/2023