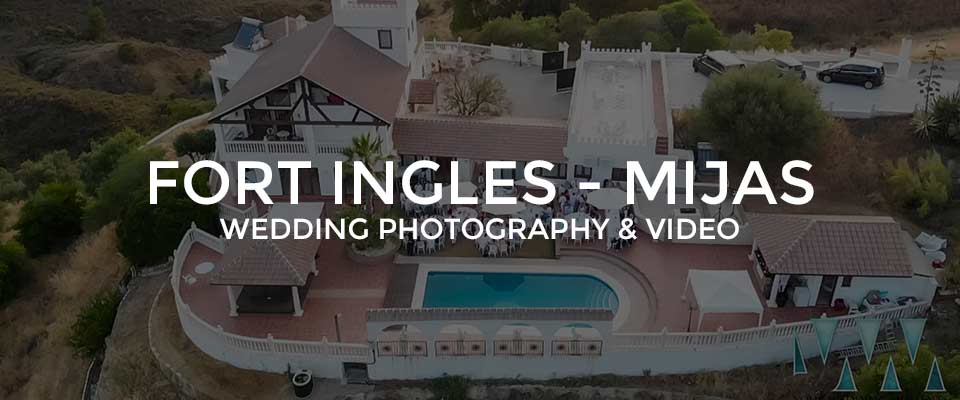 Fort Ingles Wedding Photography & Videography
Are you looking for a Fort Ingles wedding photographer in Mijas, Costa Del Sol? Hello, I'm Gary Tapp and maybe you found this page because you are looking for your wedding photographer for your wedding at the Fort Ingles wedding venue. I am based and living in Marbella, Malaga and I travel and cover weddings all along Andalucia, Costa Del Sol in Spain.
The venue has no noise restrictions because there are no immediate neighbours which allows for a no party cut-off time. The property has 6 bedrooms. with the main master bedroom for the grand bridal suite with a minstrel gallery. You have a very large outside space overlooking the pool for your table plans, comfortably seating 100 wedding guests outdoors and up to 50 seats indoors.
Please take a look at my gallery portfolio below of examples of my photography taken during a Fort Ingles wedding event. You can also view more of my work from other wedding venues in my photography and videography portfolios.
---
For booking your wedding and for more information contact
Fort Ingles on:
---
Address: Ctra. A-7053, km 2.5, 29120, Málaga
Telephone: +34 699370534
Website: fortingles.com
If you think you would like me to be your wedding photographer or videographer for your wedding celebration at the Fort Ingles wedding venue or any other location, then I would love to hear more about you both and what you have planned for your wedding day? Please use the WhatsApp icon below or the quick contact form below and I will get back to you.
---
Fort Ingles Wedding Photographer
07/06/2020