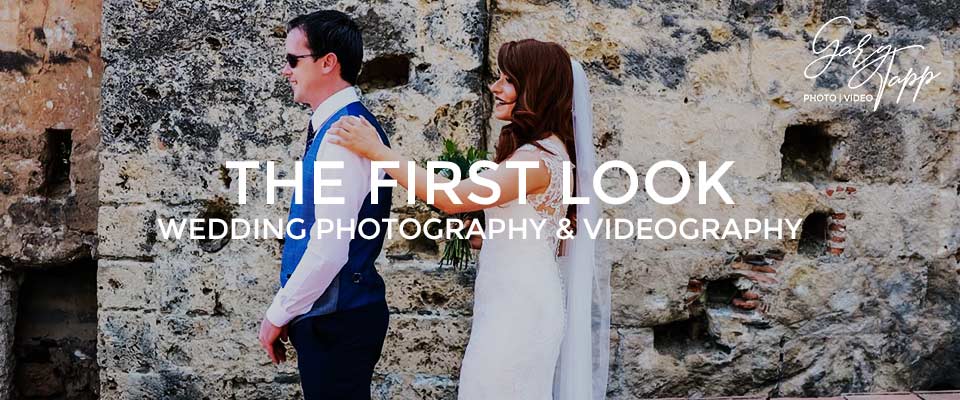 Are you looking for a wedding photographer to include a First Look wedding day pre-ceremony session during your wedding day? Hello, I'm Gary Tapp and maybe you found this page because you are looking for a wedding photographer and include a First Look photo shoot or video session. I am based and living in Marbella, Malaga but I travel and cover weddings all along the Costa Del Sol, Andalucia.
What is a First Look?
A First Look is when a bride and groom to see each other on their wedding day before their wedding ceremony. It is a private moment for the couple, away from the eyes of family and friends.  It's a lovely modern wedding day tradition, but it is not for everyone.  Many couples do not want to do a First Look, mainly for traditional reasons. Other couples who wish to do a First Look do so because of the privacy and intimacy and initial release of emotions of that first moment they see each other on the wedding day, captured discreetly and unobtrusively away from family and friends.
If you want to do a First Look, you need to understand the pros and cons of doing so.  After you weigh those pros and cons, you make the decision that is best for you.  Not for anyone else.  If you don't want to see each other until you walk down the aisle, that is a decision for you two to decide on together.  Don't let anyone pressure you into deciding for or against what you know in your heart to best the best decision for your wedding day. Whatever you decide to do will be OK with me.
Please take a look at my gallery portfolio below of examples of my wedding photography taken at some of my First Look wedding day sessions. You can also view more of my work from other wedding venues in my photography and videography portfolios.
If you think you would like me to be your wedding photographer or videographer for your wedding celebration here in Spain or any other location, then I would love to hear more about you both and what you have planned for your wedding day? Please use the WhatsApp icon below or the quick contact form below and I will get back to you.
---
First Look Wedding Day
15/08/2020