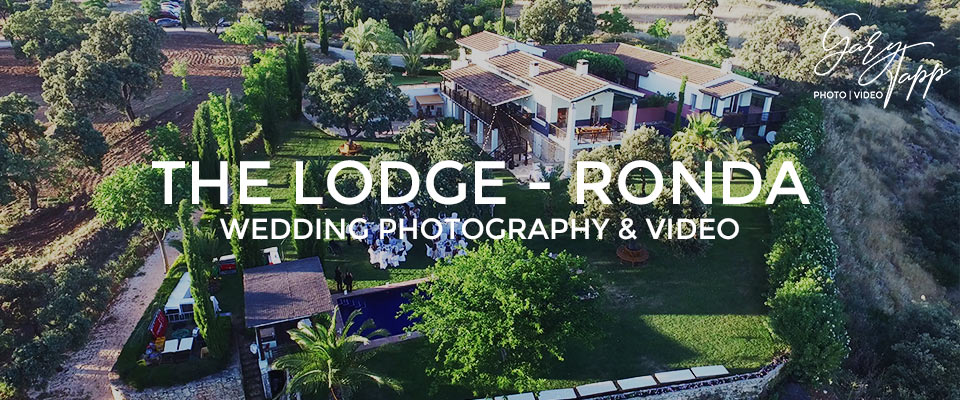 The Lodge Ronda Wedding Photography & Videography
Are you searching for an English speaking wedding photographer The Lodge, Ronda? Hello, I'm Gary Tapp and maybe you found this page because you are looking for an English speaking wedding photographer at The Lodge Ronda wedding venue. I am based and living in Marbella, Malaga but I travel and cover weddings all along the Costa Del Sol, Andalucia in Spain.
The Lodge Ronda wedding venue is set in the beautiful rolling countryside of Andalusia's Serrania de Ronda Mountains and is surrounded by national parks and the famous white villages. It's an ideal getaway with a modern contemporary feel, that successfully combines the feeling of a luxury hotel with the exclusivity of your own private wedding venue space. Professional staff unobtrusively tends to your every need. It's just a short drive away from the beautiful historic town of Ronda, Spain and is a perfect base to enjoy wonderful Andalusia.
The Lodge Ronda can host weddings for up to 90 guests with great pleasure in an elegant yet familiar way in the gardens and next to the pool. The wedding venue also has seven luxuriously appointed bedrooms, all with en-suite facilities and breathtaking views of the surrounding majestic countryside and grounds. The perfect place to wake up and prepare for your wedding day.
The Lodge Ronda is truly one of the most beautiful Andalusian venues for your wedding, with Sevilla, Córdoba, Malaga, Jerez and Granada right on your doorstep. Historic Ronda with its restaurants is just 20 minutes away and it's just a 45-minute drive to Los Arceos Golf Course, 60 minutes to the beach and 90 minutes to Malaga and the Airport.
The hotel venue is a group accommodation with 7 bedrooms, sleeping up to 14 guests very comfortably.
A spacious high-ceiling Lounge with its open fire makes the winter months extraordinarily cosy. The dining area with an open plan kitchen lets everyone join in naturally. The massage room and multi-functional 18 x 6 sqm studio add to another dimension of luxury for any purpose.
The venue is set its own spacious lands which make for great aerial drone shots to add into your wedding photography or wedding video.
Please take a look below at one of our wedding videos shot at The Lodge Ronda wedding venue:
---
Please take a look at my gallery portfolio below of examples of my wedding photography taken at The Lodge. You can also view more of my work from other wedding venues in my photography and videography portfolios.
---
If you are interested in me being your wedding photographer or videographer for your wedding celebration at The Lodge Ronda wedding venue or any other location, then I would love to hear more about you both and what you have planned for your wedding day? Please use the WhatsApp icon below or the quick contact form below and I will get back to you.
The Lodge Ronda Wedding Photographer
25/04/2017