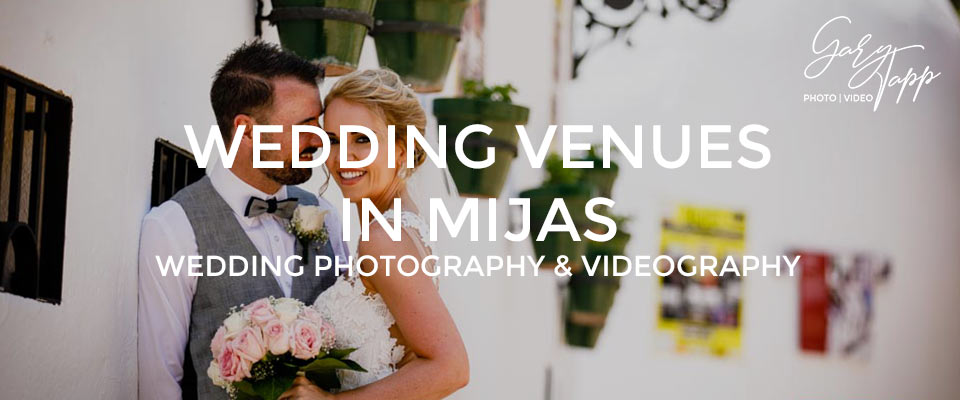 The best wedding venues in Mijas, Spain
Are you searching for wedding venues in Mijas Spain? Hello, I'm Gary Tapp professional wedding photographer and wedding videographer, and maybe you found this page because you are looking and researching for the best wedding venues in Mijas for your wedding in Spain. I am based and living in Mijas near Marbella, Malaga and I travel and cover weddings all along the Costa Del Sol, Andalucia.
Mijas. Perfect for your wedding venue.
Thinking of getting married on the Costa Del Sol and wondering where to have your wedding venue? A wedding in Mijas is perfect for you! With a great selection of stunning wedding venues in Mijas Costa and pueblo, you will be spoiled for choice. Take a look at these ideal locations and let us help to start planning your perfect wedding day today.
Capture the moments
Wedding venues, Mijas are breath-taking and beautiful. You will need someone familiar with the settings and location to capture those important moments on your special day. Hi, I'm Gary Tapp the professional wedding photographer and wedding videographer, for your wedding in Mijas. Having chosen to live in Mijas many years ago, I know why it's a special place for a special day.
Once, you've chosen to have a Mijas wedding the next big decision will be where. There is a great selection of potential wedding venues in Mijas as well as a variety of prime locations: Mijas Pueblo, Mijas Costa and La Cala de Mijas. Why not browse through the individual pages listed below of the best wedding venues in Mijas and pick out the perfect place for your wedding needs?
Take a look at my extensive photography and videography portfolios of the area and beyond and know that I'll be delighted to capture the moments on your special day.
In Mijas you are spoilt for choice
Mijas, Pueblo, Costa or La Cala, is the perfect wedding destination. It offers excellent connections from two major airports: Malaga international and Gibraltar, making it easy, economical, and efficient for guests to travel. It lies just off the accessible motorways, A7 and AP7 giving straightforward access for all. In fact, one Mijas venue is comfortably located just off the main road but seems a million miles away. Lew Hoad Mijas Tennis Club with its impressive garden space, terraces, water features and more is a wonderful place to celebrate your wedding day.
You'll have the enviable task of deciding whether you'll be enjoying a beach wedding on soft white sand, framed by the Mediterranean Sea and the imposing hills that surround Mijas or, perhaps, you prefer the charm and tradition of a Mijas Pueblo Wedding? Mijas Pueblo is the perfect pueblo blanco, a white village, filled with meandering streets and awash with historic buildings. Whilst La Cala de Mijas offers a combination of both pueblo and Costa, a coastal setting in what was once a traditional Spanish fishing village.
Spoilt for choice? Let me help to guide you through the best wedding venues in Mijas. As my home, I am particularly well equipped to offer advice and suggestions on this beautiful location.
Wedding venues in Mijas Costa
Mijas Costa offers style, sophistication, and class to any wedding. With elegant beach hotels, such as El Oceano, you are guaranteed the celebration of a lifetime. Here, you can celebrate your wedding day with the beautiful backdrop of the azure blue Mediterranean Sea. Your guests will be treated to spectacular views and incredible service at these luxurious beach hotel venues. It's the perfect way to spend your perfect day! From restaurants with ample space to accommodate guests to beach clubs with the possibility of DJs and dancing to luxury hotels with spas, the choice in Mijas Costa is phenomenal!
Wedding Venues La cala de Mijas
If it is a beach setting you want with a little more intimacy, then perhaps La Cala de Mijas would be ideal for your needs.  A former fishing village, it retains the charm of a small beach resort but has all the amenities of somewhere far larger.  With the beautiful boardwalk that divides the small town from the sandy beach, La Cala de Mijas is a thriving but calm beach town. La Cala de Mijas offers beachfront venues as well as a well-equipped golf resort.  In fact, this is the home to the biggest golf resort in Spain.  Every taste and need are catered for in this great location.
Mijas Pueblo
Sharing the same municipal name as the coastal locations, Mijas Pueblo offers a different type of Mijas wedding venue. This is a picture-perfect pueblo and, for many, it is the epitome of an Andalusian white village. It's winding streets and flower bedecked white walls, sparkling against the daily sun is incredibly romantic.
If the beauty and tranquillity of the pueblo entice you, why not explore the Hacienda San Jose Mijas wedding? Located just on the outskirts of Mijas, the Hacienda San Jose offers the perfect retreat from the hustle and bustle of modern life. This type of venue allows you privacy too with all your guests able to stay in this exclusive environment. The private Hacienda or Mijas villa will allow you to plan your day in the spectacular mountain setting, surrounded by nature and beauty.
Wherever you decide to locate your wedding venue, Mijas is sure to have the perfect place for you. Contact me and I'll be happy to talk through the possibilities for your Mijas wedding day.
Please take a look at the individual pages listed below of some of the top Mijas wedding venues and wedding reception venues in Mijas that I have worked at and covered for wedding photography and video. You can also view other examples of my work from other wedding venues in my photography and videography portfolios.
---
Mijas Wedding Venues
If you are interested in me being your wedding photographer or videographer to cover your wedding day at your chosen wedding venue in Mijas Spain or any wedding venue on the Costa Del Sol, Spain, then I would love to hear more about you both and what you have planned for your wedding day? Please use the WhatsApp icon below or the quick contact form below and I will get back to you.
Wedding Venues in Mijas
24/08/2020