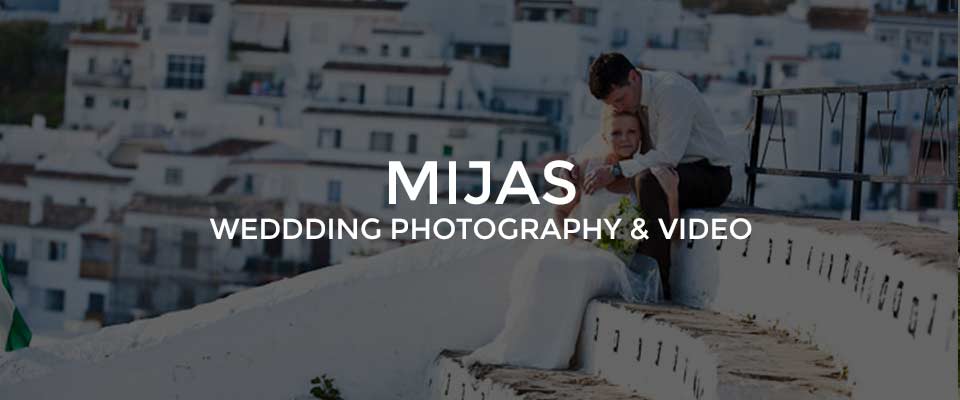 Wedding Photography & Videography in Mijas
Are you searching for a Mijas wedding photographer? Hello, I'm Gary Tapp and maybe you found this page because you are looking for your wedding photographer in Mijas. I am based and living in Marbella, Malaga but I travel and cover weddings all along the Costa Del Sol, Andalucia.
Mijas is a whitewashed Spanish village with geranium-lined, cobbled streets which sits in the Sierras de Mijas mountainside overlooking the coastal resort of Benalmadena the rest of the Mijas Costa.
Mijas Costa itself is the area of the Costa del Sol in Spain spanning from Fuengirola all the way to Marbella. Mijas pueblo village is just a short drive from the coast and gives you and your guests a lovely day out with a genuinely authentic Spanish feel.
There are also wedding venues in the surrounding area of Mijas including the fabulous Hacienda San Jose and the Valparaiso Restaurant.
As a Mijas wedding photographer
I have many great places to shoot your wedding day including the beautiful Church of the Immaculate Conception in the centre of Mijas is set in beautiful gardens, beside the famous Mijas bullring (see photo left taken at the bullring) at the top of the old part of the village and thus, commanding a prime position with breathtaking views down the mountain to the sea. Inside the church is serenely beautiful, with ornate archways, marble floor, high wooden-beamed ceilings and a peaceful aura and the gardens around it provide a great backdrop for the wedding photos as well as commanding panoramic views down across the coast, which is spectacular for your wedding album.
Please take a look at my gallery portfolio below of examples of my wedding photography taken in Mijas. You can also view more of my work from other wedding venues in my photography and videography portfolios.
If you think you are interested in me to be your wedding photographer or videographer for your wedding celebration in Mijas or any other location, then I would love to hear more about you both and what you have planned for your wedding day? Please use the WhatsApp icon below or the quick contact form below and I will get back to you.
---
Mijas Wedding Photographer
28/07/2012