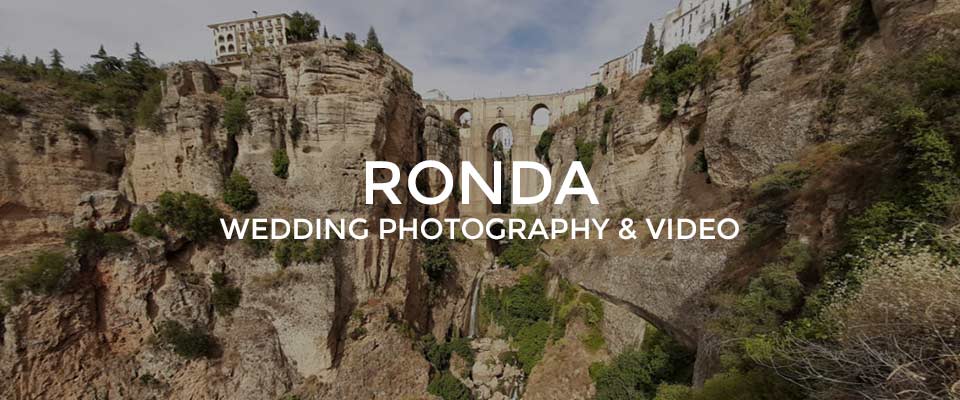 Ronda Wedding Photography & Videography
Are you searching for an English-speaking Ronda wedding photographer? Hello, I'm Gary Tapp and maybe you found this page because you are looking for an English-speaking wedding photographer in Ronda. I am based and living in Marbella, Malaga but I travel and cover weddings all along the Costa Del Sol, Andalucia in Spain.
Ronda is a beautiful location that is located about an hour from Marbella. There are many venues to choose from including private fincas and villas, and you can choose between the rustic and the elegant – each boasting its own style and charisma.
Ronda is a city in the Spanish province of Málaga. It is located about 100 kilometres (62 mi) west of the city of Málaga, within the autonomous community of Andalusia. Its population is approximately 35,000 inhabitants and is accessible via highways and by rail from Algeciras and from Córdoba. Surrounded by lush river valleys and sitting above a deep ravine, it is a place that literally takes your breath away when seeing it.
Anyone who has been lucky enough to visit Ronda will understand its appeal. It is one of the most beautiful and visited cities in Spain (the third most visited city in Andalucia).
American artists Ernest Hemingway and Orson Welles spent many summers in Ronda as part-time residents of the old town quarter called La Ciudad. Both wrote about its beauty and famous bull-fighting traditions. Their collective accounts have contributed to Ronda's popularity over time.
…also for the petrol heads for pre or post-wedding fun is the Ascari Race Resort:
The first of it kind, the Ascari race resort is located in a beautiful secluded valley in Ronda. Combining luxury with adrenaline. The racetrack is the longest in Spain totalling 5,425 meters.
Cars available for use at the Ascari track include a Le Mans Race Car (LMP 900 two-seater, Radical SR3's, Reynard Chrysler single-seaters, Lotus Elise race cars, a BMW 3 Compact, and off-road buggies. You can also use the track to test your own wheels on. Visit their site for more information.
---
Ronda area on the Map
Please take a look at my gallery portfolio below of examples of my Ronda wedding photography. You can also view more of my work from other wedding venues in my photography and videography portfolios.
---
If you are interested in me being your wedding photographer or videographer for your wedding celebration in Ronda or any other location, then I would love to hear more about you both and what you have planned for your wedding day? Please use the WhatsApp icon below or the quick contact form below and I will get back to you.
Ronda Wedding Photographer
18/08/2012