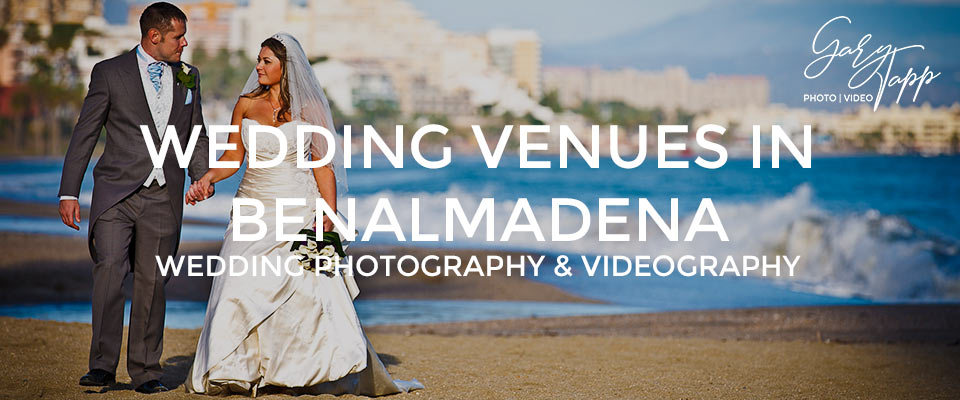 The best wedding venues in Benalmadena, Spain
Are you searching for wedding venues in Benalmadena, Spain? Hello, I'm Gary Tapp a professional wedding photographer and wedding videographer, and maybe you found this page because you are looking and researching wedding venues in Benalmadena for your wedding in Benalmadena Spain. I am based and living in Mijas near Marbella, Malaga and I travel and cover weddings all along the Costa Del Sol, Andalucia.
Benalmadena attracts many tourists with its picturesque marina, nightlife restaurants, clubs and bars, the busy Arroyo de la Miel and theme parks and water parks, to the typical Spanish styled white-walled village of Benalmadena Pueblo and the many beachfront holiday hotels. Some of the hotels also offer a high standard of wedding catering and bespoke service along with full wedding facilities and planning.
Benalmadena Pueblo is also the location for the Benalmadena Archaeological Museum; a highly recommended visit to view the unique collection of pre-Columbian treasures from South America mooted to be some of the best in Europe. There is also a permanent exhibition of local antiquities and relics from the pre-Roman era.
You can also hold your wedding in Benalmadena at the catholic wedding ceremony held in the Santo Domingo de Guzman Church, which was built in the 17th century and is the oldest church in Benalmadena Pueblo. It has been built on the foundations of a previous temple and is situated in Plaza Santo Domingo, the original centre of the town.
Please take a look at the individual pages listed below of some of the top Benalmadena wedding venues that I have worked at and covered for wedding photography and video. You can also view other examples of my work from other Benalmadena weddings in my photography and videography portfolios.
---
Benalmadena Wedding Venues
If you are interested in me being your wedding photographer or videographer to cover your wedding day at your chosen wedding venues in Benalmadena Spain or any wedding venue on the Costa Del Sol, Spain, then I would love to hear more about you both and what you have planned for your wedding day? Please use the WhatsApp icon below or the quick contact form below and I will get back to you
Wedding Venues in Benalmadena
24/08/2020