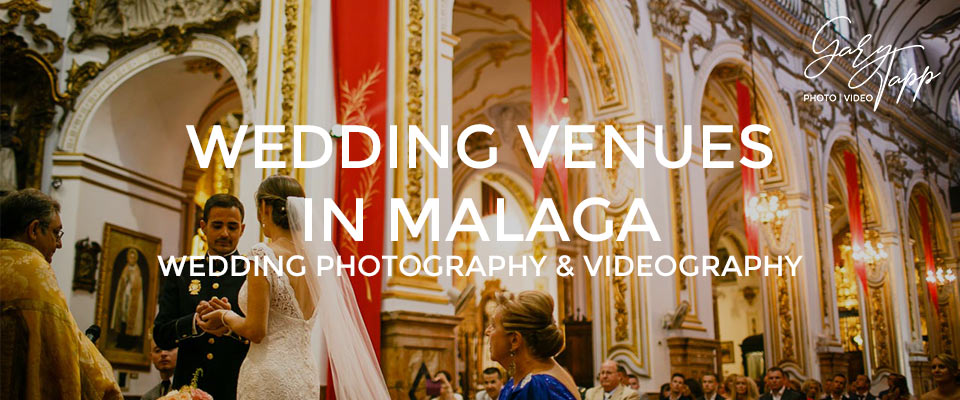 The best wedding venues in Malaga, Spain
Once you've decided to tie the knot in Southern Spain, the next big choice is where to have your amazing day. The city of Malaga is more than just the transport hub of the area and the place you'll probably fly into. It's a stylish and sophisticated city with an exciting blend of modern and traditional. Set by the crystal clear waters of the Mediterranean, it is an ideal location for a wedding. Wedding venues in Malaga are perfect for you. Whatever your reason for making Malaga the location for your wedding, you'll not be disappointed.
Malaga Castle Wedding
What could be more impressive than a castle as a venue for your wedding day? A Malaga castle wedding will offer you grandeur and timeless elegance in an amazing setting. This is the stuff of dreams but it really can be a reality: your reality. Castillo Santa Catalina or Castle Saint Catalina is perfect in every way. Perched on a hilltop, it offers incredible views of the sea. This castle is stunning and a fairytale wedding could be yours.
It was built in 1932, the castle really does remind guests of the opulence of the heyday of Hollywood cinema with its lavish salons, extensive courtyards and exquisite gardens. It is the perfect backdrop for beautiful, timeless videography and photography. The lighting possibilities throughout the venue offer a real sense of magic and splendour. Here you can dance in the romantic courtyards until midnight to a live DJ set and after move your party to one of the exclusive indoor rooms.
An additional attraction is are the hotel facilities which allows you and several guests to make this your royal residence for the duration of your wedding and beyond. This is a boutique hotel so, if your party is large, there are plenty of options nearby for the remaining guests. Plus, the beach is a mere 10 minute stroll away for the venue. If you have every dreamed of the princess wedding, the Malaga castle wedding makes your fantasy a reality.
Malaga wedding villa
There's a huge diversity of Malaga wedding venues available to the discerning couple. A Malaga wedding villa offers intimacy and luxury with a wide range of villas available for your wedding.
Malaga's stunning location between the sea and mountains gives you a range of choice from villas with spectacular views across the Mediterranean or others with an impressive backdrop of mountains. Country estates offer wedding venues near Malaga which are easily accessible. These vast estates or cortijos with orange and lemon tree lined roads or bordering a magical lake have their own distinct character. If you're attracted to something a little more alternative, there's even an ecolodge set in a finca complete with hammocks, a yurt, log cabins and a caravan!
Whatever your wish list contains, there's sure to be a Malaga villa to suit your wedding.
Malaga beach wedding venues
There's nothing quite like a beach wedding with the perfect climate of Southern Spain. Beach weddings offer endless opportunities from humble chirunguitos available to lavish beach clubs and restaurants.
One of the most iconic Malaga beach wedding venues is the 1928 El Balneario. Boasting a host of history, this spa with multiple terraces overlooking the sea has always been a spectacular place for amazing parties from the 1950s. The white lounge with its huge windows opening onto the sea offers your wedding style and class. In addition, a top class restaurant offers exceptional dining for you and your guests.

There are many luxury beach hotels and clubs to choose from all offering different themes, styles and character.
As your wedding photographer and videographer, I'll happily recommend and advise you as to Malaga wedding venues that will suit your requirements. My wedding packages Malaga will offer you great options when planning your special day. Whether you decide to locate your wedding in a castle, a villa or by the shoreline of the glittering Mediterranean, I'm here to help create wedding memories in perfect venues that will last a lifetime.
---
Malaga Wedding Venues
Are you searching for wedding venues in Malaga, Spain? Hello, I'm Gary Tapp and maybe you found this page because you are looking and researching for the best wedding venues in Malaga for your wedding in Spain. I am based and living in Mijas near Marbella, Malaga but I travel and cover weddings all along the Costa Del Sol, Andalucia.
The region of Malaga is one of Andalusia southern jewels and although it may be best known for its beaches and tourist resorts along the Costa Del Sol, inland Malaga is home to many beautiful country wedding venues, ideal for celebrating your dream wedding. Please take a look at the high quality and highly rated wedding venues in Malaga that are uniquely Spanish and offer something for everyone..
Please take a look at the individual pages listed below of some of the top Malaga wedding venues that I have worked at and covered for wedding photography and video. You can also view other examples of my work from other wedding venues in my photography and videography portfolios.
---
If you are interested in me being your wedding photographer or videographer to cover your wedding day at your chosen wedding venue in Malaga or any wedding venue on the Costa Del Sol, Spain, then I would love to hear more about you both and what you have planned for your wedding day? Please use the WhatsApp icon below or the quick contact form below and I will get back to you.
Wedding Venues in Malaga
21/08/2020