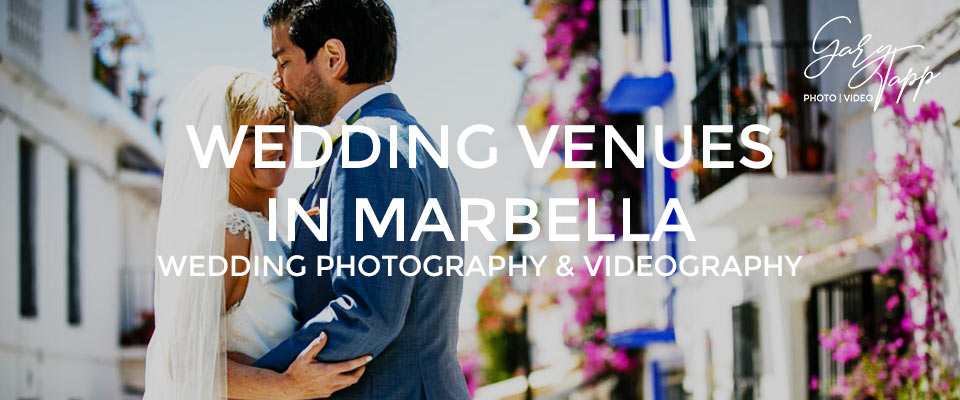 Types of Wedding Venues in Marbella, Spain
Wedding day planning is quite a task, isn't it? Even a simple ceremony with a few guests needs some serious strategic planning.  Once you've settled on a location, there's lots still to do.  A major consideration is where to celebrate your big day.  Wedding venues in Marbella offer you an incredible and distinctive way to enjoy your wedding.  Here's some of our favourite Marbella locations that'll add style and sophistication whichever one you decide to choose.
Hotels
The advantage of selecting hotels for wedding venues in Marbella is that they offer you the possibility of a one stop shop. If you're under a tight time constraint or you just like the idea of everything being close to hand: this is the perfect solution! Many Marbella hotels have a whole range of facilities to pamper guests: spas, beauty treatments, exceptional dining experiences and fantastic cocktails. You'll enjoy the five star treatment.
Marbella has some fabulous hotels. From opulent, luxury venues designed to cater for large discerning groups to smaller, intimate boutique hotels where the focus is on the individual: Marbella has it all. Many hotels have spectacular locations with incredible photo opportunities. Their terraces and gardens often stretch towards the clear blue of the Mediterranean giving you the chance to be captured at sunset or sunrise. What could be more romantic?
Beach Clubs
If you're tempted by the idea of the sea and the sand, then perhaps your wedding venue near Marbella should be at one of the many beach clubs. Each beach club has its own distinctive style from modernist minimalism to on-trend art and light venues. These beach clubs are world-renowned and offer you the opportunity to celebrate your wedding in a stunning and inspiring venue like no other.
You'll be the VIP at your wedding and treated as such. Dressed in style, you'll be able to sip on delicious cocktails, enjoy contemporary cuisine and dance to DJ floor-filling playlists.
Chirunguitos (Beach Bars)
Tempted by a beach location but wanting something more intimate than a beach club? Then, perhaps the chirunguito, which translated means a beach bar, could be the perfect place for your wedding. These chirunguitos are different wedding venues in Marbella. They still offer all that is unique about Marbella: incredible sandy beaches, the turquoise Mediterranean and trend setting style but in a smaller more secluded location.
These beach bars are not shacks! They offer understated elegance with the perfect backdrop of the sea and sand. Their size often allows you to hire the whole venue for your wedding making your day one of a kind.
Wedding Villas Marbella
Liking the idea of your own venue but wanting some even more intimate? Private villas are the perfect wedding venues in Marbella for the exclusive wedding event. The range of villas available for weddings in Marbella is extensive from places by the beach to spectacular countryside settings. You'll have the enviable choice when it comes to photography: sea or mountains or both. The style of private villa is as eclectic as the choice is large from the modern, sleek building with infinity pool to classic, timeless elegance of a renovated cortijo or country home. The choice is yours!
Private villas offer you the opportunity to plan your event as you want it.  Hiring caterers or a private chef, organising a DJ to play sounds as the sun sets by your private pool, the choices are endless.  If you're a golf fan, many villas are located within the grounds of some of the top golf courses in the world, allowing you a few rounds during your stay.
Take a look at my "Best Wedding Villas Marbella UPDATED FOR 2022" blog post for my favorite Private Villas in Marbella.
Whatever you decide, wedding venues in Marbella Spain offer you the opportunity to make your event unique and spectacular. From hotels to beach clubs, chirunguitos or private villas, each presents a venue that is unrivalled. Marbella is an incredible place to celebrate your wedding day.
As your wedding videographer and photographer, I will make sure that your special memories are captured forever. Contact me, Gary Tapp, for an informal chat and consultation about how we can work together.
---
Marbella Wedding Venues & Villas
Please take a look at the individual pages listed below of some of the top Marbella wedding venues or wedding venues near Marbella that I have worked at and covered for wedding photography and video. You can also view other examples of my work from other wedding venues in my photography and videography portfolios.
More and more bride and grooms are choosing to celebrate their wedding in Marbella the beautiful surroundings and warm climate of Malaga, accompanied by their family and friends. Increasingly Marbella wedding villas are becoming more popular along with hotels that provide a different type of wedding planning service. There are plenty of Marbella wedding venues from which you can choose from including rural and rustic settings with impressive mountain and sea views, country estates to luxury villas, boutique hotels, beach clubs and luxury hotel resorts.
---
Are you searching for luxury wedding villas in Marbella, Spain? Hello, I'm Gary Tapp and maybe you found this page because you are looking and researching for the best wedding venues in Marbella for your wedding in Spain. I am based and living in Mijas near Marbella, Malaga and I travel and cover weddings all along the Costa Del Sol, Andalucia.
If you are interested in me being your wedding photographer or videographer to cover your wedding day at your wedding venue in Marbella Spain or any wedding venue on the Costa Del Sol, Spain, then I would love to hear more about you both and what you have planned for your wedding day? Please use the WhatsApp icon below or the quick contact form below and I will get back to you.
Wedding Venues in Marbella
21/08/2020