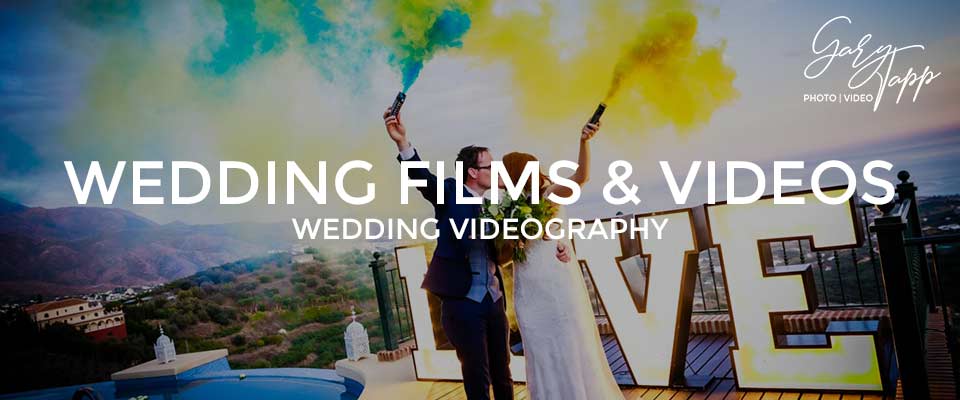 Wedding Videographer in Marbella, Malaga Spain
Are you planning on having a wedding video in Spain? Are you searching for an English speaking wedding videographer in Spain to document your wedding? Hello, I'm Gary Tapp and I am based and living in Marbella, Malaga in southern Spain I travel and cover weddings all along the Costa Del Sol, Andalucia and the whole of the mainland Spain. Along with the essential wedding photos, more and more couples are choosing to have a wedding video from their wedding day too.
Cinematic Films & Natural Reportage Wedding Videography
Wedding videos have changed from the days of VHS tapes and standard-definition DVDs. In addition to the essential wedding photography, reportage, documentary video allows you to have a valuable audiovisual record of one of the most important days of your lives. Today modern DLSRs photo cameras are now able to capture high-quality video with cinema-quality, your wedding video will be different from years ago. Natural, casual and impromptu behaviour without posing are the core ingredients of contemporary wedding videos.
The secret of getting an awesome wedding video is to be natural in front of the cameras and to forget that a wedding videographer is even there. It's all about enjoying your day, sharing the moment with your family and guests without thinking of a wedding videographer being there to capturing the moments.
---
---
Most couples look for a natural reportage video without posing during their wedding day i.e with minimal direction and interference in the normal course of the day. Of course, I can also provide some direction and staging but this is always done in the agreement with the bride and groom. This includes preparations, the ceremony, the reception, through to the after-party enabling you to relive your wedding moments, over and over again. My wedding videos are edited to the latest styles of wedding cinematography emulating filming, editing styles and look from the movies.
I am committed to providing you with stunning high definition wedding film, and exceptional, personalised service. Along with high professional quality, I strive to produce a wedding video that captures the natural, candid and unique personalities of both the bride and groom, as well as the guests.
You can also view more of my wedding videos from wedding venues along the Costa Del Sol in my wedding videography portfolio.
---
---
Wedding Video and Film Packages & Prices
My prices are affordable considering the quality of the product. Do you think it's worth saving on your wedding video? You can possibly find cheaper wedding video on the market, but not with this modern quality. You should have in mind that your wedding film will capture one of the most important days of your life. The movie of your wedding day will take you back in time to the emotions and the feelings of your big day.
Included in my wedding videographer packages are also options to cover full ceremony from start to finish and full speeches, all supplied as individual chapters to watch separately. Also included in some of my video packages you also receive a 3-5 minute movie-style trailer which is the highlights of the best and key moments of your wedding day. You can also share this video on social media and/or send to friends and family.
I also offer other wedding videographer services including pre or post-wedding videos. These can be a short love story trailer that can then be included as an introduction in your wedding video or shown during the reception etc on the wedding day. It will certainly help you to be more comfortable in front of the camera before your big day. The pre-wedding video is made a few weeks before the wedding date.
A post-wedding video can be made as early as the next day after your wedding day and in your wedding attire if you wish. It is the ideal time to explore your favourite locations here in Spain that you were not able to do during the wedding day. The post-wedding video is a great addition to your wedding video without the preoccupation and time restrictions of your wedding day.
If you are interested in me being your wedding videographer for your wedding in Spain or any other location, then I would love to hear more about you both and what you have planned for your wedding day? Please use the WhatsApp icon below, the request wedding packages brochure above or the quick contact form below and I will get back to you.
Wedding Videographer
14/08/2020