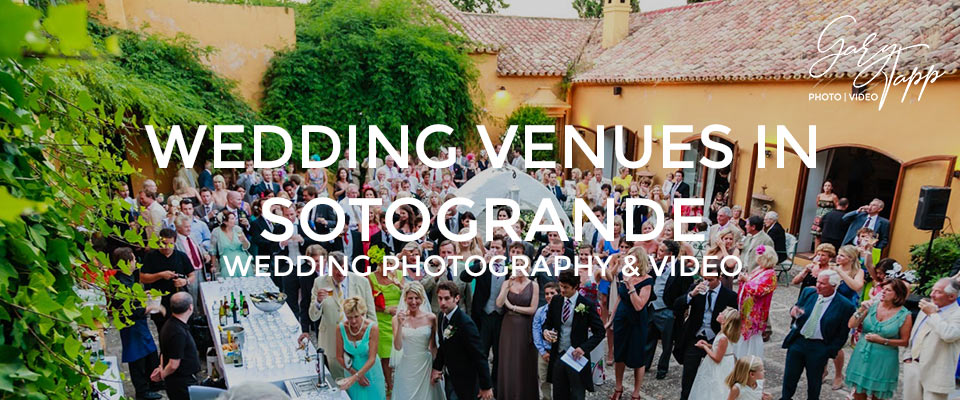 The Top Sotogrande Wedding Venues
Are you searching for wedding venues in Sotogrande, Marbella? Hello, I'm Gary Tapp and maybe you found this page because you are looking and researching for some of the best wedding venues in Sotogrande for your wedding in Spain. I am based and living in Mijas near Marbella, Malaga and I travel and cover weddings all along the Costa Del Sol, Andalucia.
Celebrate your wedding in Sotogrande
Sotogrande located 25km east of Gibraltar and just slightly further west than Marbella offers the wedding couple a discerning and exclusive location. If you decide on Sotogrande, you'll be treated to A list style venues in a beautiful location that stretches from the Mediterranean Sea to the foothills of Sierra Almenara.
Hi, I'm Gary Tapp, and I'd be delighted to be your wedding photographer and videographer at your Sotogrande wedding. With two decades of experience filming on the Costa Del Sol and beyond, I have the knowledge and understanding to make your wedding day simply wonderful and unique. Here's why a Sotogrande wedding might be the perfect one for you.
Sotogrande a special sort of place
Sotogrande originated as a gated community and it retains that sense of privacy and seclusion which gives it its unusual and unique character. It has a mixture of settings: unbeatable coastline, spectacular mountains, cork forests, exclusive golf courses and rolling countryside. It has become the favoured home of many wealthy families from across Europe and beyond.
Meticulously planned and perfectly executed, the architecture of Sotogrande is quite magnificent. Buildings here have won awards and are protected due to their incredible style. It offers unrivalled sports facilities with horse riding, polo, golf and sailing to name a few. The marina here offers not only the opportunity to set sail but to eat, drink and relax in one of the many fine dining establishments. This location leaves behind the hustle and bustle of its Costa Del Sol neighbours. It has a quiet dignity and your Sotogrande wedding will be a beautiful and refined celebration in one of the most exceptional locations in Andalucia.
Sotogrande wedding venues
Sotogrande is smaller than its neighbours and the venues are less prolific but nonetheless attractive and well appointed.  The Trocadero Sotogrande wedding is an amazing experience.  One of the top beach clubs in Europe, it benefits from an incredible location and spectacular views across the Mediterranean Sea towards Gibraltar.  It offers a top class restaurant with cuisine from around the world.  However, the Trocadero Sotogrande is more than just a restaurant by the Mediterranean Sea.  It is an exclusive location perfectly designed for celebrating by the beach.
Palm trees line the boardwalk giving you an incredible backdrop for spectacular wedding memories. The azure waters of the Mediterranean Sea lap the soft sand below the terraces of this fabulous beach club. The upmarket service will make both you and your guests feel like the stars of your celebration. Aside from fine dining, enticing cocktails perfectly prepared will make you want to linger longer. This is a resort designed with your comfort in mind. It's wide ranging facilities ensure that your needs will be met.
As your wedding videographer and photographer, I will be there to capture all the best images from such a beautiful location. From the magnificent sunsets across the Mediterranean to the romance of the beachside setting, I'll ensure that those special memories are saved forever.
In addition, there are other special venues nearby to celebrate your special day. I'll happily discuss these with you such as Finca Monasterio de San Martin or Hotel La Almoraima de Castellar. Take a look at the individual pages below and contact me for further information about your chosen Sotogrande wedding venue.
Please take a look at the individual pages listed below of some of the top wedding venues in Sotogrande that I have worked at and covered for wedding photography and video. You can also view other examples of my work from other wedding venues in my photography and videography portfolios.
---
Sotogrande Wedding Venues
---
If you are interested in me being your wedding photographer or videographer to cover your wedding day at your Sotogrande wedding venue or any wedding venue on the Costa Del Sol, Spain, then I would love to hear more about you both and what you have planned for your wedding day? Please use the WhatsApp icon below or the quick contact form below and I will get back to you.
Sotogrande Wedding Venue
10/09/2020