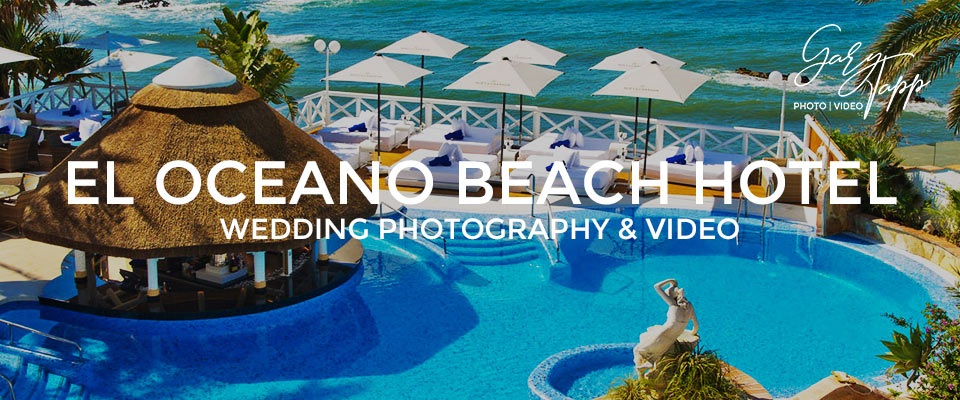 El Oceano Beach Hotel Wedding Photography and Videography
Are you searching for an El Oceano Beach Hotel wedding photographer in Mijas Costa, Marbella, Spain? Hello, I'm Gary Tapp and maybe you found this page because you are looking for a wedding photographer at the El Oceano Beach Hotel. I am based and living in Marbella, Malaga but I travel and cover weddings all along the Costa Del Sol, Andalucia.
The El Oceano boutique luxury hotel is located on Spain's Mijas Costa. The hotel is Family owned and run, and is right next to the beach and boardwalk with the most perfect amazing views over the Mediterranean Sea. The hotel accommodation is second-to-none and our restaurant is, perhaps, the most exquisite on the Costa del Sol.
The El Oceano Beach Hotel wedding venue is the perfect beach-side setting for your wedding day. Elegant sun-soaked weddings on the Beachfront Terrace to intimate blessings in the hotel's beautiful gardens, you can enjoy an elegant wedding reception with five-star cuisine from the world-class kitchen, in relaxed surroundings by the edge of the sea.
The El Oceano Beach Hotel wedding venue provides you with great backdrop views of the spectacular coastline for your wedding day. Take a dip in Oceano's beautiful outdoor swimming pool, or lie back and soak up the sun on the pool's terrace where standard sun beds are available free of charge. VIP sun beds are available for a surcharge.
Alternatively, you can stroll down to the nearby beach and enjoy the cool waters of the Mediterranean Sea. Ocean Beach Hotel boasts facilities that will help you enjoy your stay during your wedding. You can enjoy the various treatments available in the on-site spa, or relax in the hot tub. Dine in the hotel's outdoor restaurant in summer, and enjoy a light lunch in the sunshine and an à la carte meal in the evening.
The hotel also has their own residing pianist and MC, Johnny Baker who for the past 15 years Johnny remains the resident pianist at the hotel during the Summer, this also includes organising the many El Oceano wedding events that the hotel caters for.
---
---
Please take a look at my gallery portfolio below of examples of my wedding photography taken at the El Oceano Beach Hotel wedding venue. You can also view more of my work from other wedding venues in my photography and videography portfolios.
---
Professional Wedding Photography at the El Oceano Beach Hotel wedding venue in Mijas Costa, Marbella, Spain
If you think you would like me to be your wedding photographer or videographer for your wedding celebration at the El Oceano Beach Hotel wedding venue or any other location, then I would love to hear more about you both and what you have planned for your wedding day? Please use the WhatsApp icon below or the quick contact form below and I will get back to you.
For booking your wedding and for more information contact
El Oceano Beach Hotel on:
---
---
El Oceano Beach Hotel Wedding Photographer
08/06/2020