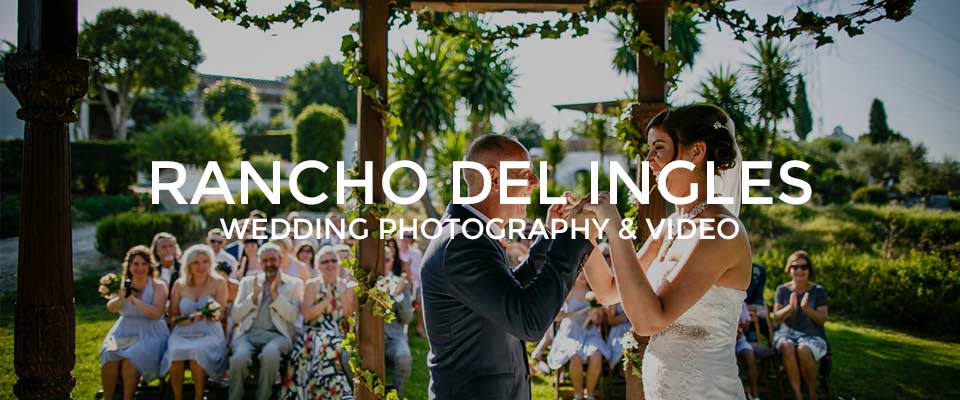 Rancho Del Ingles Wedding Photography and Videography
Are you looking for a Rancho Del Ingles wedding photographer in Malaga, Costa Del Sol? Hello, I'm Gary Tapp and maybe you found this page because you are looking for your wedding photographer at Rancho Del Ingles I am based and living in Marbella, Malaga but I travel and cover weddings in Andalucia including the towns of Alhaurin De La Torre.
Rancho del Ingles is fantastic wedding venue Located in the Malaga countryside, and offers simple but stylish accommodation and is only quarter of an hour from Malaga airport, inland from Mediterranean sea. The venue has got a beautiful rustic feel and we all love the Spanish architecture. The Rancho is ideal for a wedding of at least 85 guests and, if you are planning a bigger celebration, this place can host up to 200+ people.
This rustic Rancho converted from a farmhouse dating from the 1850s into the stunning green gardens and its delightful mixture of architectural styles and the farmhouse is built with materials salvaged from Europe and Asia, resulting in a delightful fusion of architectural styles. Rancho Ingles is furnished with beautiful pieces like an ancient Salamanca door, a raised-iron Indian bed … it is the perfect place for your wedding photos and video.
The Rancho is also environmental responsible, solar-heated hot water, and the living areas have log-burning stoves and huge dining tables.
The Rancho has a beautiful house with 10 bedrooms the huge gardens and pool, Its very safe and child friendly too with excellent facilities. The whole property can be reserved exclusively on a self-catering or support by a local wedding catering company.
---
Please take a look at my gallery portfolio below of examples of my wedding photography taken at the Rancho Del Ingles wedding venue in Alhaurin Del La Torre, Malaga. You can also view more of my work from other wedding venues in my photography and videography portfolios.
---
Professional Wedding Photography at the Rancho Del Ingles, Alhaurin Del La Torre, Malaga, Spain
If you think you would like me to be your wedding photographer or videographer for your wedding celebration at Rancho Del Ingles wedding venue or any other location, then I would love to hear more about you both and what you have planned for your wedding day? Please use the WhatsApp icon below or the quick contact form below and I will get back to you.
For booking your wedding and for more information contact
Rancho Del Ingles on:
---
Address: Rancho del Ingles, Camino del Convento, s/n, 29130 Alhaurín de la Torre, Malaga, Málaga
Telephone: +34 952410692
Website: ranchodelingles.com
Rancho Del Ingles Wedding Photographer
24/07/2020