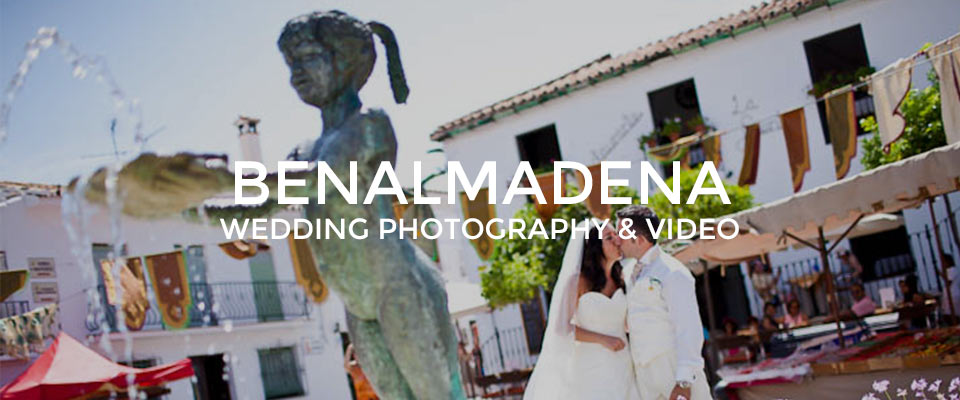 Benalmadena Wedding Photography & Videography
Are you looking for a Benalmadena wedding photographer? Hello, I'm Gary Tapp and maybe you found this page because you are looking for a wedding photographer in Benalmadena. I am based and living in Marbella, Malaga but I travel and cover weddings all along the Costa Del Sol, Andalucia.
Benalmadena is a beautiful and very popular setting for Weddings in Spain. Benalmadena has steadily become one of the area's most popular resorts for Weddings in Spain. There are two churches in Benalmadena near the coast and in the pueblo called the "Santo Domingo". Right next door is the Capula venue offering amazing views, lovely gardens and a beautiful water feature. A contemporary venue with full modern menu, stylish sofas to relax on after your meal and ample room for dancing under the stars makes this the ideal venue.
This original heart of Benalmadena is a couple of minutes from the sea. Benalmadena Pueblo is a traditional and Spanish whitewashed village with cobbled streets, amazing views, a beautifully designed castle in remembrance of Christopher Columbus and with the nearby sandy beaches and the scenic Paloma Park which both make great photographic locations. Whilst the higher-end hotels in Benalmadena offer themselves as fantastic Wedding Receptions.
Please take a look at my gallery portfolio below of examples of my wedding photography taken at Benalmadena wedding venues. You can also view more of my work from other wedding venues in my photography and videography portfolios.
---
Professional Wedding Photography covering the most popular Benalmadena wedding venues in Spain
If you think you would like me to be your wedding photographer or videographer for your wedding in Benalmadena or any other location, then I would love to hear more about you both and what you have planned for your wedding day? Please use the WhatsApp icon below or the quick contact form below and I will get back to you.
Benalmadena Wedding Photographer
22/03/2013