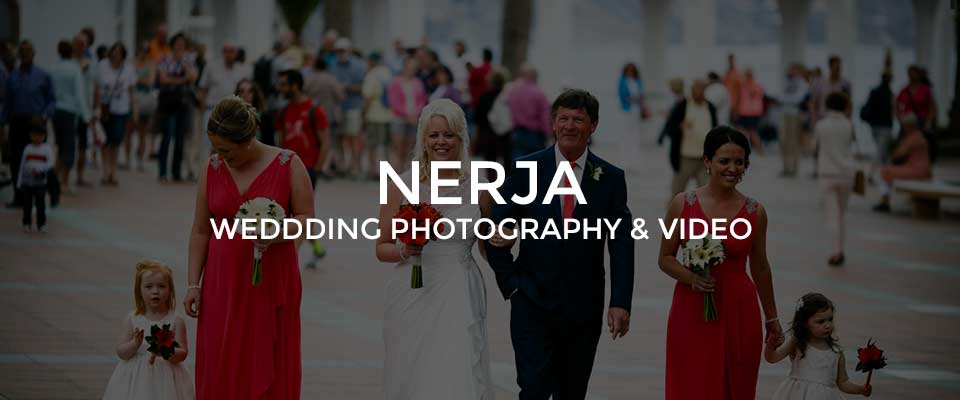 Wedding Photography & Videography in Nerja
Are you searching for wedding photographer Nerja? The coastal town of Nerja is the perfect location for your Spanish wedding as is the beautiful Spanish region to the East of Malaga. There are so many beautiful locations there to be able to tie the knot. The heart of Nerja is its spectacular Balcon de Europa, the "Balcony of Europe", with magnificent views on the towering cliff. The hotel there Balcon de Europa is one of the most popular wedding venues on the Costa del Sol.
As a wedding Nerja Photographer, there are a lot of ideal locations to shoot
The town's monuments include the 17th century Church of El Salvador a fantastic and stunning church to have your wedding, its a style which is a charming mixture of baroque and Moorish, or mudéjar, and the beautiful Gardens of Capistrano Playa, which descend to Burriana Beach. El Salvador Church is a beautiful church and is located just in front on the Balcon de Europa. From the church, there are several locations for a beautiful reception overlooking the sea.
The area also offers fabulous scenery, gorgeous wedding venues, excellent value, plus great accommodation and tourist attractions, whilst maintaining a more relaxed, traditional Southern Spanish atmosphere. With a breathtaking Mediterranean coastline that is full of coves and uncrowded beaches and the backdrop of the Sierra Nevada mountain range and ski resort, this beautiful part of Spain has more than a lot to offer.
Please take a look at my gallery portfolio below of examples of my wedding photography taken in Nerja. You can also view more of my work from other wedding venues in my photography and videography portfolios.
If you think you would like me to be your wedding photographer or videographer for your wedding celebration in Nerja or any other location, then I would love to hear more about you both and what you have planned for your wedding day? Please use the WhatsApp icon below or the quick contact form below and I will get back to you.
---
Nerja Wedding Photographer
28/07/2012