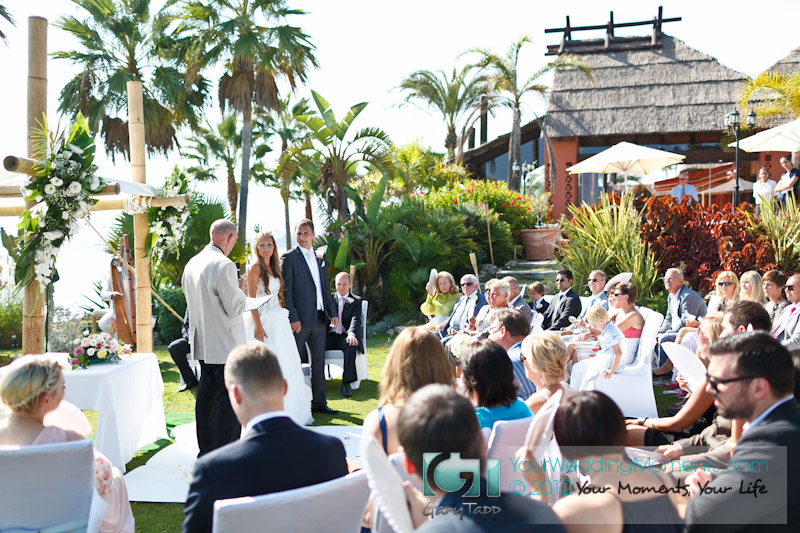 TikiTano has been acclaimed as one of the most beautiful locations on the Costa del Sol. With it´s uninterrupted views of Gibraltar and Africa and it´s frontline beach setting, the building has been created with a timeless ethnic design of tropical woods, rich colors, natural light in abundance and the ability to open itself to the sea.
There are a variety of spaces that cater for every experience; intimate corners, splendid views, sunny, shady, outdoors or in and enough space to dance and party your socks of if you so desire.
The exceptional setting of TikiTano lends itself superbly to any kind of social event, including weddings, the only limit being your imagination.
When you plan a wedding at TikiTano you get 2 very important resources; the restaurant & it´s cuisine, and the expert assistance from our free wedding planners.
Our international team of wedding planners has a brief to realize not only your needs but your dreams, and is trained to deliver the highest standard of service and produce.
We will source all kinds of entertainers as well as the creative professionals that make any event a dazzling success; the photographers, designers, makeup artists, sound technicians, DJ´s, Videographers, performers, musicians, costumiers and so on; whatever the demands for your big day, TikiTano will meet it with enthusiasm and flair, and more importantly, our wedding planners are free of charge, regardless of the size and demands of your wedding.
Apart from looking after the bride and groom on, before and after the wedding day, we also take great care in looking after your invited guests. We will arrange accommodation in hotels or apartments, flights and airport transfers and more. Your guests will get nothing but luxury when you hold your wedding with us. We will make sure everyone´s personal need is looked after.
Tikitano Restaurant Estepona
15/08/2012