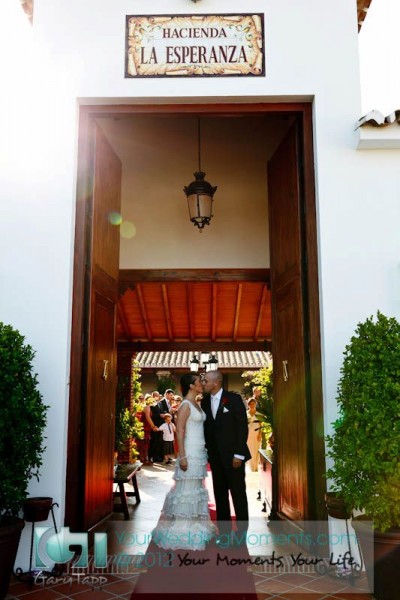 Hacienda La Esperanza is a magnificent private country estate situated in Cártama
Only 20 minutes from the center of Malaga, surrounded by nature, it offers beautiful views of the valley of Guadalhorce
Access to the estate is by a small road bordered by flourishing orange and lemon trees. The installations are of typical Andalusian design and architectural style and include a bullring with seating for the public, horse stables and an exquisitely decorated room for events. There are also several open air terraces, a pool and garden area, two Andalusian patios and a small family chapel.
It is the ideal wedding venue for celebrations of any kind of event wishing to bestow an authentic Spanish flavour  We offer professional service and at the same time, personal and friendly attention. Hacienda La Esperanza has opted to guarantee the highest quality in its food and beverage service, by means of carefully selected local catering companies which enjoy great prestige and have years of experience in the creation of delicious dishes from the Mediterranean cuisine.
Surprise your guests with a horse show or other additional services, like flamenco shows, horse carriage or wine server to assure the perfect staging of each event. Our installations, which are always rented with exclusivity, can be adapted for groups of between 50 and 600 guests.
Hacienda La Esperanza – Malaga
20/11/2012